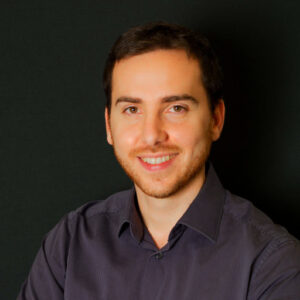 An SNSF Eccellenza Professorial Fellowship was awarded to Dr. Valerio Zerbi following his SNSF Ambizione at ETH Zurich. The Eccellenza  fellowship allows him to continue his academic and research career as part of the  the inter-faculty, Life Sciences (SV) and Engineering (STI), Institute of Bioengineering (IBI)  at EPFL. Valerio and his group will be hosted by the CIBM MRI EPFL Animal Imaging and Technology Section on the EPFL campus.
In his project, named 'Blue Networks', Valerio will focus on understanding how the Locus Coeruleus (LC) changes the dynamics of brain network activity. The LC is a small nucleus in the brain stem that synthesizes and distributes norepinephrine throughout the brain, a neurotransmitter capable of influencing many brain functions, from attention to sensory processing, from sleep / wake cycles to the response to stress. This project will use an experimental and computational approach to shed light on how this small nucleus can control so many distinct processes.
Valerio and his team will apply optogenetic manipulations of the LC in awake rodents during functional magnetic resonance imaging (fMRI) recordings. In addition, he will integrate these experimental data into a new computational model capable of simulating the neuronal mechanisms through which the LC regulates network dynamics. In this way, Valerio aims to provide a systematic and analytical description of how the norepinephrine system regulates brain functioning at the network level, which is the key to understanding how LC promotes distinct behavioral responses.
The CIBM will grant Valerio access to highly specialized expertise and technology platform that he needs to successfully perform his research program. These include access to the 9.4 and a 14.1 Tesla MRI scanners, a dedicated animal facility next to the MRI, a surgery room, a behavioural room and a wet lab.
SNSF Eccellenza Professorial Fellowships are aimed at highly qualified researchers who aspire to a permanent professorship. Eccellenza supports them in achieving their goal by allowing them to lead a generously funded research project as an assistant professor at a Swiss higher education institution.
Eccellenza covers the grantee's salary and project funds of up to 1,8M Swiss francs for a five-year period to be used, for example, for hiring PhD students, postdocs and paying for research expenses. The new status also makes the researcher eligible for additional funding schemes. The host institution provides lab space and administrative support.
For more information about Valerio Zerbi: https://www.linkedin.com/in/valerio-zerbi-a95b7725/recent-activity/
More information about the Eccellenza Awards: https://www.snf.ch/en/2XgGKpYiManbb3ny/news/eccellenza-finances-32-assistant-professorships