On 25th April 2023, CIBM held its 33rd Breakfast & Science Seminar. The seminar was chaired by Dr. Matthias Stuber, and the invited speaker was Prof. Aaron L. Baggish who gave an enlightening talk on "The Cardiovascular Complications of Sport: Opportunities for Product and Technology Development". 
Prof. Baggish has a long career in treating and consulting with master athletes and he shared in his presentation how the doctor-patient interaction, prognosis and discussions have changed over the years. For eg, as close to 2020 have the athletes started to discuss managing their cardiac conditions after receiving a diagnosis and still how to continue performing, which in the past was not the case. In the past a cardiac diagnosis would mean an end to the athlete's professional career, which now has changed and discussed so as to lay out a plan of actions that minimizes risks and ensures continuity of the professional career. 
His explanation on exercise dosage for individuals practicing vigorous exercises per week and it's effect on the individual's heart condition was specifically interesting. With the help of advancements in imaging technologies it is now possible to see and measure very precisely how much and what kind of activities have positive or detrimental effects.
Overall, his talk (access to the recording below) was not only catered for the scientific or medical community but for anyone who practices sports professionally or leisurely and wants to understand the cause and effect of the activities on their well-being.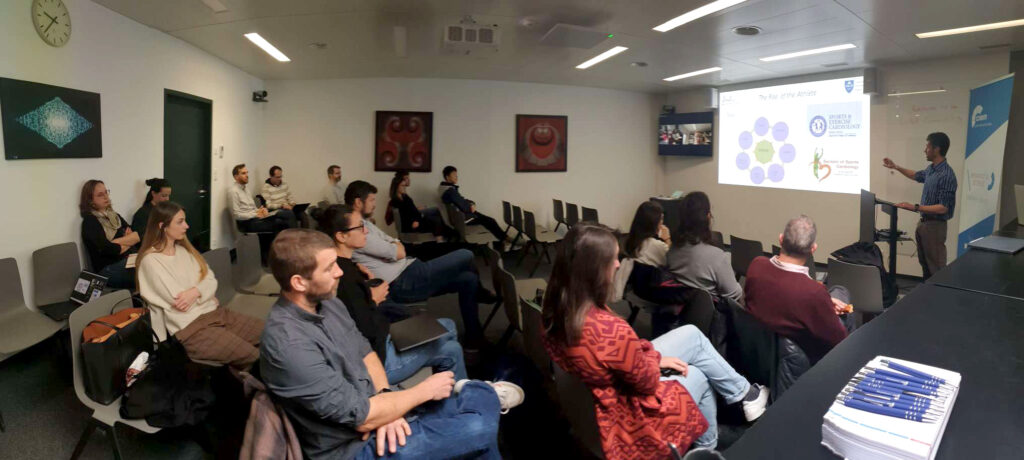 The Cardiovascular Complications of Sport: Opportunities for Product and Technology Development
Aaron L. Baggish,
Professor of Medicine and Sports Science, Institut des sciences du sport (ISSUL), Université de Lausanne.
Abstract: This presentation will address the key cardiovascular consequences of participation in high level sport and competitive athletics. An overview of heart disease in athletes will be used to present novel opportunities for the development and application of technology to address unmet clinical and scientific needs.
About the Speaker: Dr. Aaron L. Baggish is the founder and Emeritus Director of the Cardiovascular Performance Program (CPP) at the Massachusetts General Hospital in Boston, MA, USA. The CPP, an affiliate of Harvard Medical School, was the United States' first program designed to provide comprehensive cardiovascular care to elite and recreational athletes. He is now professor of medicine at the University of Lausanne's Institut des sciences du sport (ISSUL) and chief of sports cardiology at the Centre Hospitalier Universitaire Vaudois (CHUV).
Dr. Baggish is currently a fellow of the American College of Cardiology and a fellow and Board of Trustees member of American College of Sports Medicine. He has served as medical director for the BAA Boston Marathon and cardiologist/team physician/medical consultant for numerous organizations including the World Anti-Doping Agency (WADA), FIFA, FIFPro, National Football League (NFL) Player's Association, Major League Soccer (MLS) Player's Association, US Olympic/Parolympic Training Centers, US Soccer, US Rowing, New England Patriots, Boston Bruins, New England Revolution, and numerous American colleges and universities.
Dr. Baggish's research interests include exercise-induced cardiac remodeling, preparticipation screening / sudden death prevention, high performance physiology, performance enhancing substance use, and exercise dose and clinical outcomes. He has received research funding from the National Institutes of Health, the US Department of Defense, the American College of Sports Medicine, the American Medical Society for Sports Medicine, and the NFL Players Association. He has published more than 300 original peer reviewed research articles and numerous invited reviews, editorials, and book chapters and serves on the editorial boards of multiple journals including Circulation and Medicine & Science in Sports and Exercise.
The monthly meet-up seminar series is a great environment to ask questions or to share insights on challenges and solutions. It's also a good way to broaden and enrich professional networks.
Revisit past seminars and stay tuned for the next CIBM Breakfast and Science Seminar.