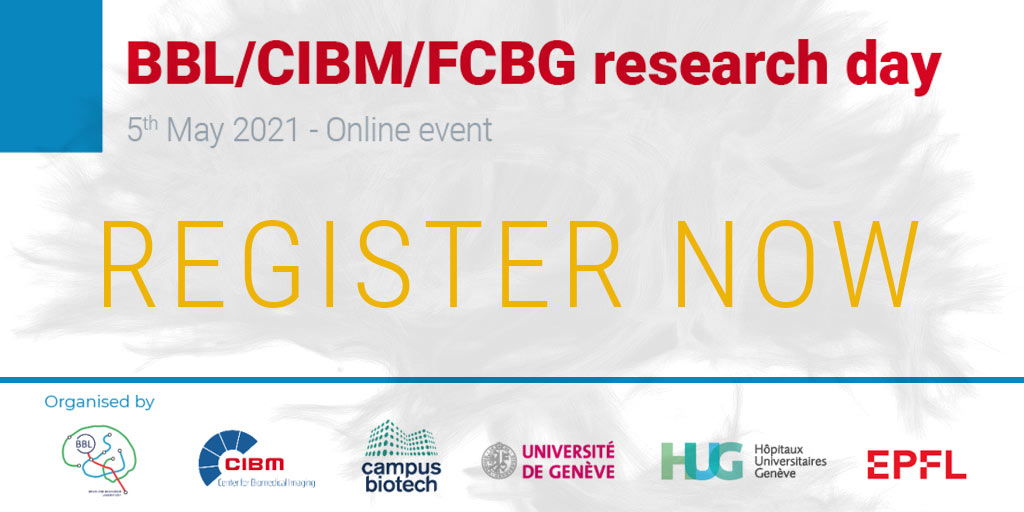 BBL/CIBM/FCBG research day 2021

The first joint research day between the Brain Behaviour Laboratory (BBL) and the CIBM dates back to 2010 with 21 presentations and 13 posters from 17 distinct research groups with an attendance of 65 participants in that first meeting. 
The main goal of this annual event is to follow up on research projects that are using one of the MRI platforms available in the Geneva area. Until 2017, this concerned MRI infrastructure  at the BBL and the CIBM, but since 2018, the research day is open to the FCBG users.
The secondary goal – the most important indeed – is to bring together researchers and students in order to strengthen the link between groups and share the knowledge and experience among teams active in biomedical imaging, from clinical to neuroscience research.
This event invites all research groups in the Geneva area, especially students, working in neuroimaging and especially in human MRI. Neuroscientists working on other fields than MRI are also most welcome and are invited to present their work in form of posters.
Programme
8h45 Welcome
9h00 Session 1
Functional MRI to understand idiopathic Normal Pressure Hydrocephalus. Dr Alessandra Griffa (PI: Gilles Allali HUG, Dimitri Van De Ville EPFL-UNIGE)
Secondary degradation of the cortical-spinal tract during the first weeks after stroke: significance for outcome and possible new treatment approaches. Adrian Guggisberg (PI: Adrian Guggisberg HUG)
3D Whole Brain High-Resolution MRSI: a new tool for clinic and neuroscience at 3T and 7T. Antoine Klauser (PI: Francois Lazeyras HUG-UNIGE)
Hallucinations and Parkinson's disease. Eva Blondiaux (PI: Olaf Blanke EPFL, Dimitri Van De Ville EPFL-UNIGE)
10h20 Coffee Break
10h40 Session 2
Dynamic functional connectivity of resting-state spinal cord fMRI. Nawal Kinany (PI: Dimitri Van De Ville EPFL-UNIGE and Silvestro Micera EPFL)
The role of the inferior frontal gyrus in affective primate vocalization categorization. Coralie Debracque (PI: Didier Grandjean UNIGE)
Wanting and liking within the human ventral striatum subregions: A high-resolution fMRI study. David Munoz Tord & Eva Pool (PI: David Sander UNIGE)
Dissecting the roles of Fusiform Face Area (FFA) and Occipital Face Area (OFA) in human face processing using fMRI-Neurofeedback. Lucas Peek (PI: Patrik Vuilleumier UNIGE)
12h00 Lunch Break with Posters​
14h00 Session 3
Social stress reactivity in adolescents. Zeynep Celen (PI: Camille Piguet HUG)
Impact of couple conflict and mediation on how we see romantic partners. Halima Rafi (PI: David Sander UNIGE)
Sensory contribution to vocal emotion deficit in cerebellar stroke patients. Marine Thomasson (PI: Julie Péron UNIGE, Frederic Assal HUG, Didier Grandjean UNIGE)
Entorhinal grid cell like activity reflects sense of self in spatial navigation. Hyukjun Moon (PI: Olaf Blanke EPFL)
15h20 Tea Break
15h40 Session 4
Pulvinar functional connectivity and its role in attentional processing. Carole Guedj (PI: Patrik Vuilleumier UNIGE)
Motion robust MRI acquisition in newborn. Ceren Nurten Askin (PI: Francois Lazeyras HUG-UNIGE)
Investigating orbitofrontal functions in term and preterm young adolescents using a reality filtering task. Maria Chiara Liverani (PI: Petra Hüppi HUG-UNIGE and Armin Schnider HUG-UNIGE)
Bodily effects in autobiographical memory: a virtual reality-fMRI study. Baptiste Gauthier (PI: Olaf Blanke EPFL, Dimitri Van De Ville EPFL-UNIGE)
17h00 Closing