The Netflix series, Babies, features ground-breaking science developed by CIBM and other neuroscience centers and reveals how infants develop during their very first year.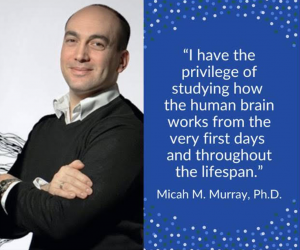 Professor Micah Murray, whose work is highlighted in the documentary, is Head of CIBM EEG CHUV-UNIL Section; and Associate Professor at University of Lausanne (UNIL) Faculty of Biology and Medicine, directing the Laboratory for Investigative Neurophysiology, the LINE. His research program innovates non-invasive brain imaging and mapping techniques and applies them to understand sensation, perception, and cognition across the human lifespan.
Professor Murray's research programme develops non-invasive screening tools for learning disabilities in children and cognitive impairments in the elderly. The research featured in Netflix's Babies series extends these screening tools to earlier in the lifespan to neonates thanks in large part to EEG analysis software, Cartool, that has been developed by Dr Denis Brunet at the CIBM EEG HUG-UNIGE Section. This is the latest advance from a longstanding collaboration between Professor Murray and Professor Nathalie Maitre at Nationwide Children's Hospital in Columbus, Ohio. Their collaboration has already shown the importance of positive touch for neonatal development (full article can be found here). Their latest results, forthcoming in Brain Topography, represent the first study to offer evidence for the very early emergence of multisensory processes in human infants and their association with later sensory reactivity and behavioral problems throughout the lifespan.
View the Babies Netflix series trailer here: https://youtu.be/wfE6vwk8Sfs.
View the Babies Netflix series Part 2, episode 3 "Senses" via your Netflix account.